Titanium Coffee Mugs Are The Best Coffee Cup Option For The Great Outdoors
We all know that there are a lot of coffee cups and mugs on the market that are designed for traveling out and about, but are they really that great for taking to the outdoors? Here you need a rugged mug or tumbler that can stand up to the rigors of nature while keeping your coffee fresh, hot, and safe. Of course, having a mug that holds plenty of joe is also important when you're out camping or hiking since you don't have the convenience of being able to head to the kitchen for a top up every half hour. Let's take a moment to look at some of the best titanium backpacking and camping mugs.
First, though, you may be asking why titanium. Why not stainless steel or even heavy aluminum? The truth is that aluminum is not that great when you're in the great outdoors. It doesn't hold heat very well, and while it is strong enough to withstand trips around town in your car, it won't stand up too well in places where it could get knocked around, dropped, or take a fall down a hill. Stainless steel is awesome in terms of insulation and toughness, but it can also be heavy, and it has a tendency to lose its luster when exposed to the elements. Titanium looks great all the time, no matter how often it's exposed to the weather, it's lighter than steel without sacrificing durability and toughness, and is even better than insulating than steel. It is the perfect material for enjoying camping coffee.
Paria Titanium 450 ml Insulated Double Wall Mug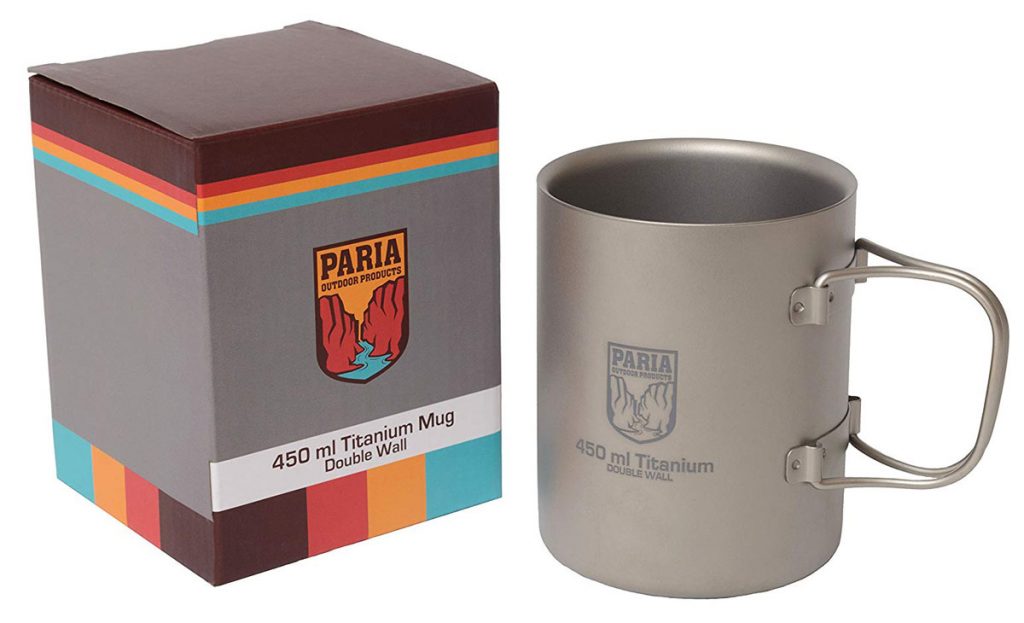 Capacity: 450ml/15.2oz

Dimensions: 3.2 inch diameter, 4.1 inch height

Weight: 4.5oz

Mesh accessories bag included
This titanium mug from PARIA is a camping classic. The double wall design makes it easy to enjoy your favorite coffee piping hot without risk of burning your hands. The air trap insulation does allow the outside to get warm enough to warm your hands on, however. The classic twin fold-away handle makes it easy to pack up and head out when that time comes without taking up too much space in your bag. The mug holds 450ml or 15.2oz and is perfect for all types of coffee or other hot beverages.
This mug does not have a lid, but that may not matter if you are planning to primarily use it while sitting next to a camp fire. The double wall construction makes up for the lack of a lid by keeping your coffee nice and hot despite the open top. There's also a mesh accessories bag included that you can use to store instant coffee packets or sugar, if you choose. I think the bag is meant for storing the mug, but that just doesn't seem like an optimum use.
Snow Peak Titanium Stacking Double Wall Cup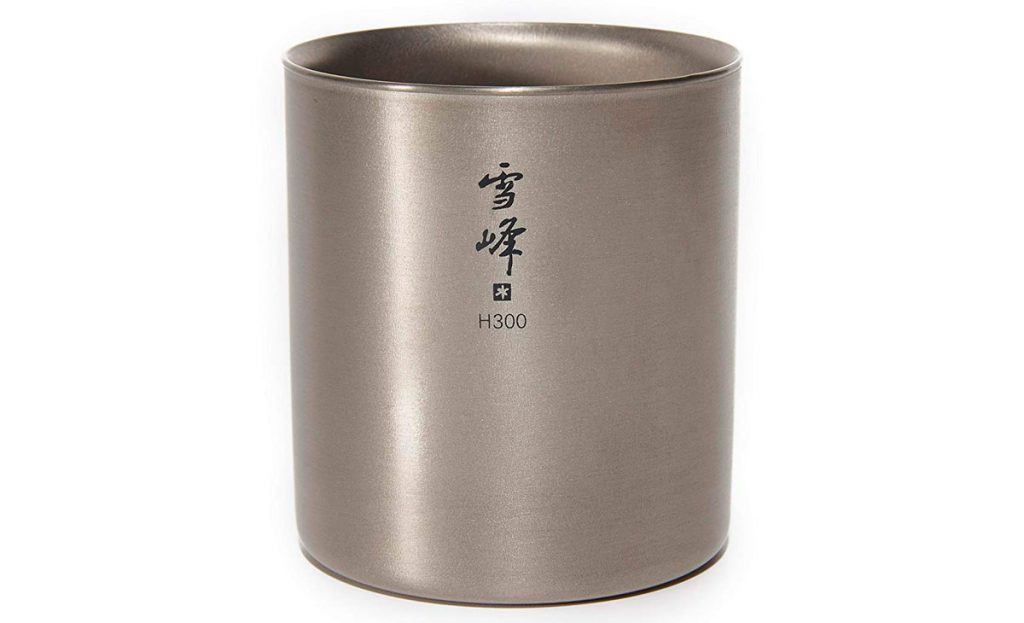 Capacity: Three Sizes to Choose From 200ml/6.75oz – 300ml/10.14oz – 450ml/15.20oz

Dimensions: 5 x 6 x 5 inches

Weight: 8 ounces
This great mug comes in three sizes so you can pick the one that's best for your coffee drinking habit. The solid titanium construction is of course right in line with what you might expect from Snow Peak. This is weighty 8 ounces but it's worth the weight in your pack for the quality that you get. Like the PARIA this mug does not have a lid, and also like the PARIA it has a double wall construction that helps keep your beverages well insulated, and your hands warm but not hot.
The best thing about this mug is that it has a stacking design. That helps save space in your pack, but it comes at the price of not having a handle. This is a classic tumbler style cup and nothing more. Well worth the price if you are a fan of the Snow Peak brand, but otherwise, there are better mugs out there for those who just want a great cup of coffee while camping or backpacking.
Snow Peak Titanium Mini Solo Cook Set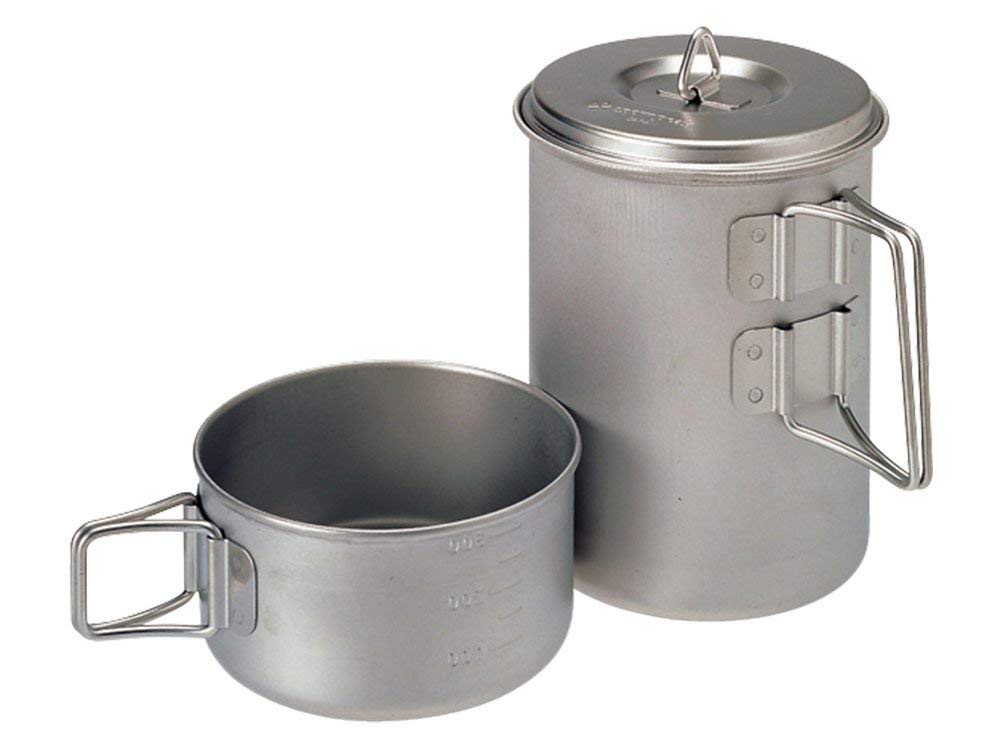 Capacity: 28oz/828ml pot/mug & 10oz/295ml mini cup

Dimensions: 4 x 4 x 5.1 inches

Weight: 5.4 ounces

Mesh accessories sack is included
This is a much better option for camping or backpacking in terms of utility, because you can do pretty all of your kitchen work with this set. This mug, also from Snow Peak is a whopping 28oz handled pot style mug that also includes a smaller 10oz mini cup. Both mug and cup have a butterfly fold-away handle and measurement markings so it's easier to make sure you're brewing with the water-to-grounds ratio. There is a mesh accessories sack included that holds all those little things that you need to brew your coffee as well.
The larger unit has a tight-fitting lid with its own finger loop that is large enough to get any poker into to open it up. The larger unit can also be used for cooking soups, veggies, or anything else that you desire, as the durable 100% titanium construction is ideal for campfire usage as well as a camping cook stove. When it's time to pack up, the smaller cup fits inside the larger unit and the mesh bag tucks right inside as well. The lid goes on and you're ready to pack it into your gear with room to spare.
Valtcan 750ml Titanium Pot Mug Cup with Lid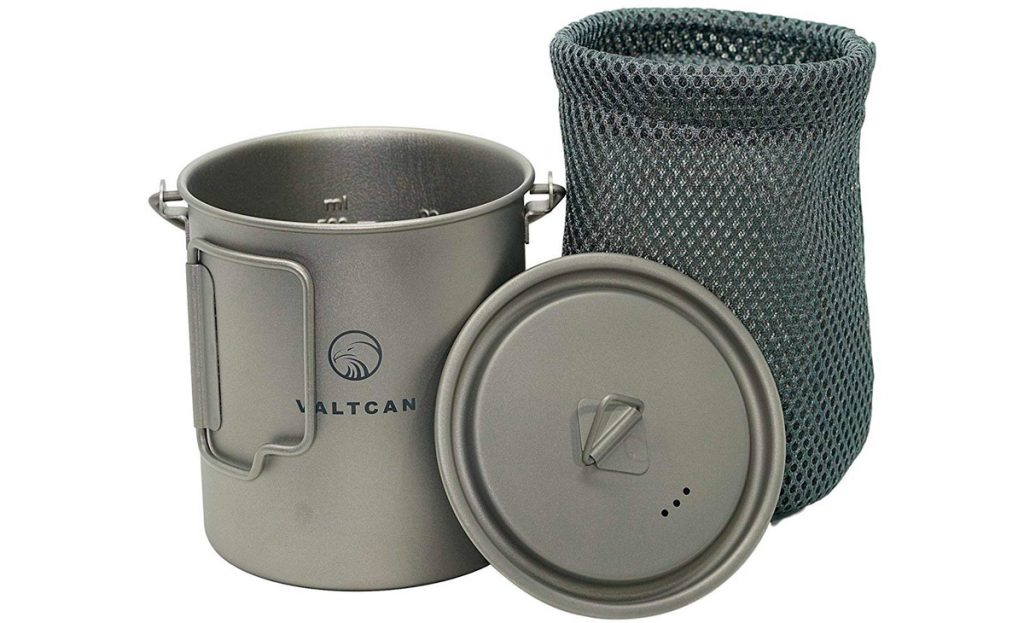 Capacity: 750ml/25oz

Dimensions: 4.4 inches tall, 3.7 in diameter

Weight: 104g/3.8oz Pot and 24g/0.9oz lid

Bail handle is removable
This is a really big mug. To be honest that is actually an understatement. THIS IS A HUGE MUG. At 4.4" tall and 3.7" in diameter, this big bad boy can hold a full 25oz. And might actually be more of a cooking pot with a handle. Whether you prefer pour over, instant, or old-fashioned campfire percolator brewing, you will get a full morning load of coffee in this one and then some. The butterfly handle folds away when not needed, and the removable bailing handle makes it easy to move in and out of the fire area, or to grab water from a creek or lake for cooking or fire dousing later.
The solid titanium construction gives a hefty feel and long-lasting durability to this mug that is exactly what you would expect from Valtcan. This is also a great mug that can double as a cooking pot for veggies, stew, fish, and more in the evening. We have even heard of someone baking a small loaf of campfire bread in it, and thanks to the natural nonstick nature of titanium it slid right out ready to eat when it was done. If you are looking for a larger all around usage Titanium camping mug, then this is the right one for you.
EUSSUE COMBO Titanium Camping Mug with Lid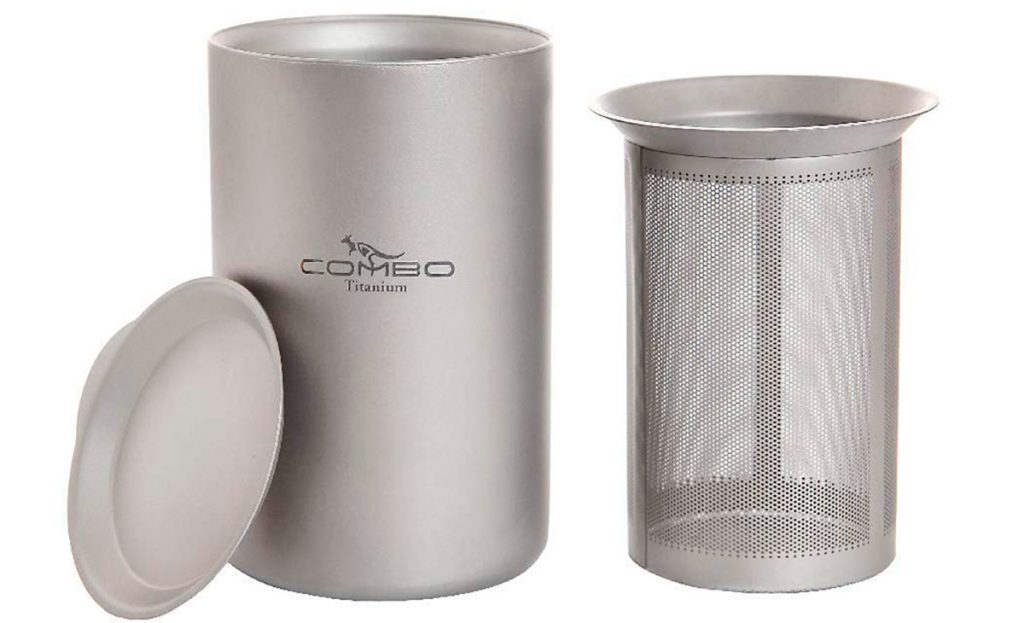 Capacity: 11.95 oz/ 350 ml

Dimensions: (D)2.95*(H)4.53 inch/ (D)75 x (H) 115 mm

Weight: 9.17oz

Close mesh titanium filter is included to make coffee brewing and cooking easier
What's not to love about this titanium coffee mug from Eussue. The originator of all things awesomely Australian for camping, hiking, backpacking, and survival brings you the COMBO series. This mug not only features double wall construction and a tight-fitting lid, but also a great slide-in close mesh basket that is ideal for coffee grounds, veggies, herbs, teas and more.
There are a couple of downsides to this mug, however. The mug itself does not have a handle, and the lid does not have a finger loop, instead opting for a small lifter on the side. This mug might be easier to pack, but it is a bit more complicated to handle. However, considering that this is a full 11.95 ounces of capacity, and that the design helps to keep the coffee hot for hours, we are willing, begrudgingly, to forgive these design errors.