Percolators – The Classic Camping Coffee Maker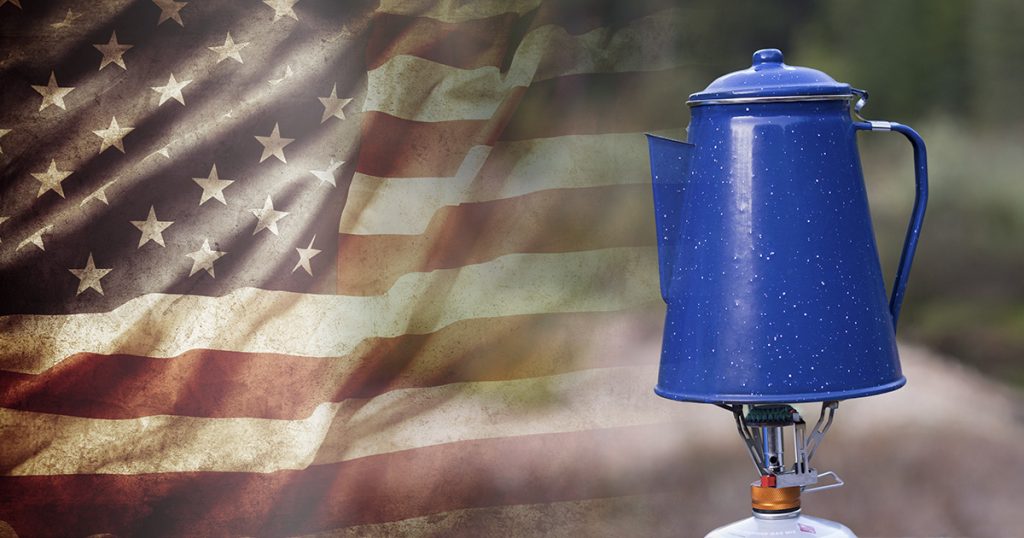 The first percolator was invented in 1865. Before that we had mostly just been throwing ground up coffee beans into boiling water like savages and then trying to drink around the grounds. Percolators have remained popular with campers because they are easy to use over an open flame, and they produce a pretty decent cup of coffee. Some complain that percolators over extract the coffee grounds, and there's some truth to that, but it's still one of the most reliable ways to make a large quantity of drinkable coffee when you're camping.
There are a lot of choices out there at a variety of different price ranges. If you plan to just use a percolator a few times a year than the cheaper ones should work fine, but if you plan to run more coffee through one than an old West cowboy than the well-built, more expensive ones will probably be a better choice for you.
Coleman 12 Cup Stainless Steel Percolator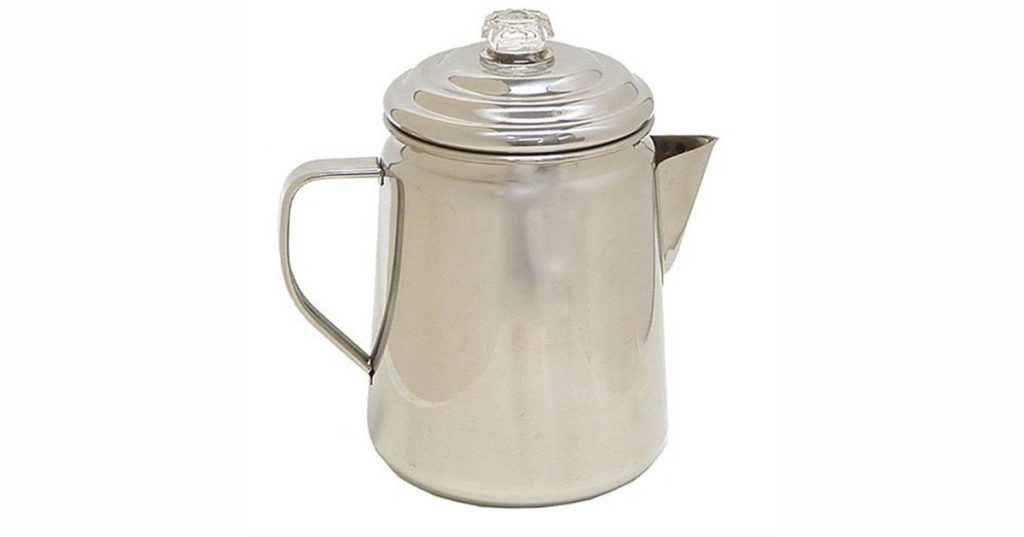 12 Cup Capacity
Stainless Steel
9.5″x8.6″x6.4″
The nice thing about Coleman Percolators is that you know they were designed for a campfire. There are a lot of stove top percolators on the market that don't fair so well over an unpredictable open flame. They often have plastic handles or they are made of a material that is difficult to clean after several days over a campfire. Coleman Percolators are always a safe bet when choosing a percolator for a camping trip because they have been designing outdoor gear since the early 1900's.
Coleman's 12 cup stainless steel percolator is a great choice if you are looking for a well priced, durable percolator for regular use. The clear cap is a classic feature that comes in handy because it makes it easy to tell when the coffee is ready without opening the top. It is also kinda fun to watch. The tempered glass topper is not fragile, but if you do happen to break it you can just order a new one from Coleman, so you don't have to replace the whole percolator.
Check Price On Amazon
Coleman 14 Cup Percolator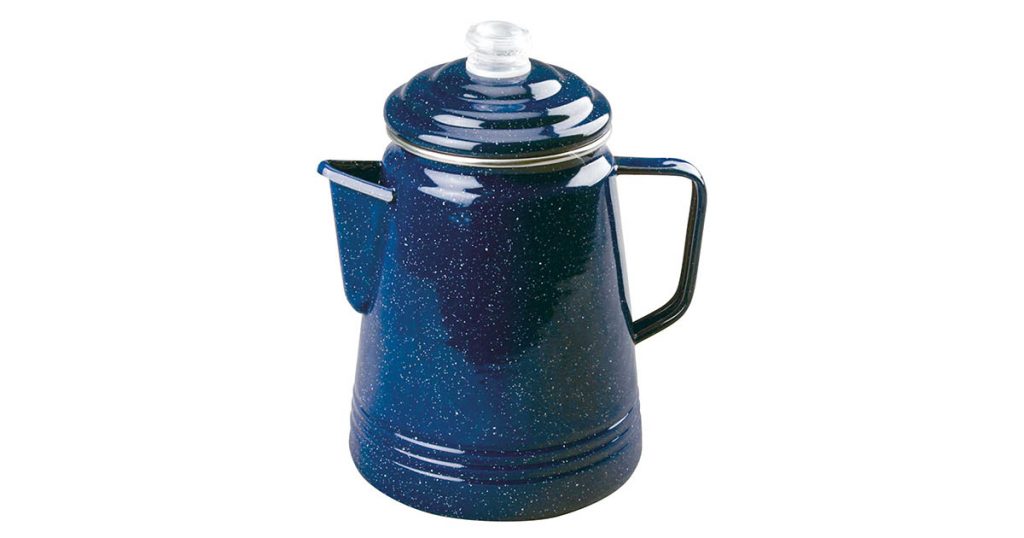 14 Cup Capacity
Double Coated Enamel
9.5″x8″x6.5″
Classic Look
Wide Base
When people picture camping coffee this is most likely the image that comes to mind. The classic blue and white double coated enamel percolator with a wide base was designed for a campfire. The fact that this one can make 14 cups of coffee is an added bonus. This percolator also has a clear glass topper to help ensure you know when the coffee is done, and the all metal construction ensures it will do well on a camp fire.
The only downside to this product is that the interior spout and basket are not as sturdy as the rest of the percolator, and Coleman does not sell them as a separate part. However it will make a great pot of coffee while the stem and basket last.
Check Price On Amazon
Winterial Percolator Coffee Maker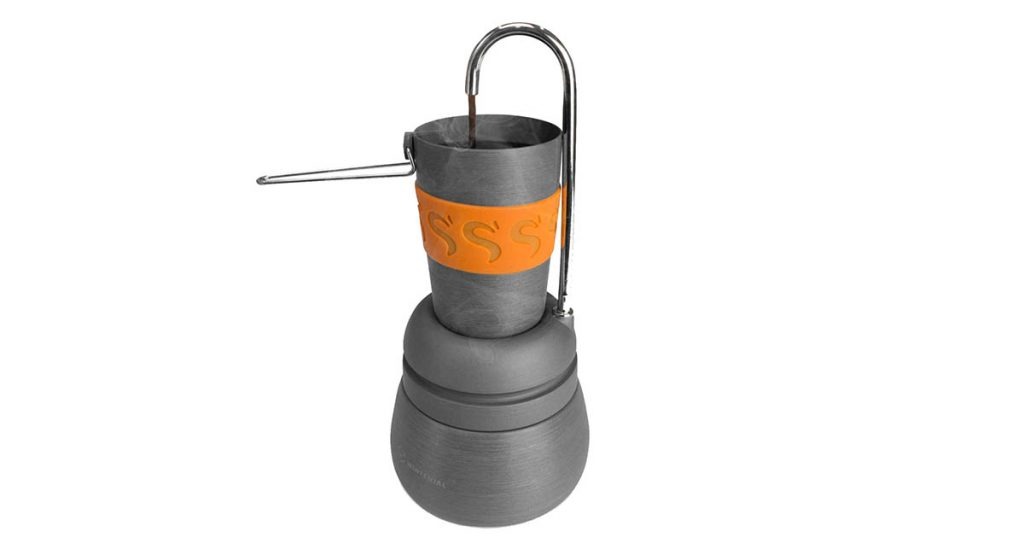 1 pint capacity
Anodized Aluminum
Percolator 4″x9.5″ Cups – x3″x4″
Compact Size
Lightweight (1.3lbs)
The Winterial Percolator was designed for those who need a compact, lightweight set up for brewing coffee. It works different from your classically designed percolator by using a spout to automatically deliver coffee to a cup when the water boils which means no pouring is required. In that sense it's almost more of a moka pot or one of the other stovetop espresso makers you see around.
If you need to make coffee for several people this is not the best option due to it's relatively small capacity, but this is a perfect option for situations where space is limited and/or weight is a factor. It comes with two mugs that fit the base and a nifty little bag to carry everything in. So if you are planning a backpacking trip or a cross country motorcycle trip this ingenious little percolator may be the ideal choice.
Check Price On Amazon
Stanley 6-Cup Adventure Percolator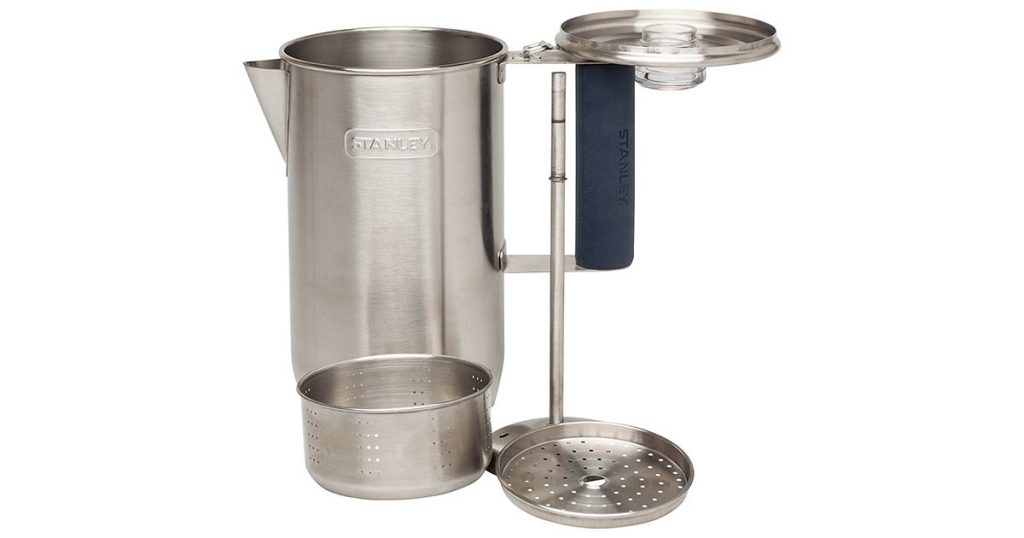 Stainless Steel

1.1 quart capacity

Removable rubber handle cover

5″ x 8.5″ x 10.5″

Dishwasher safe
The Stanley 6-Cup Adventure Percolator is a mostly well-designed coffee brewer that is durable and dishwasher safe. The dishwasher safe part probably doesn't matter for you if you are reading this blog, because you most likely will be washing your percolator out in a creek or campsite spigot.
One feature that sets the Stanley Percolator apart from the others is the removable rubber handle covering. It makes it easier to grip when being used on a small propane camp stove, and it can be easily removed if you decide to brew coffee over a campfire. The 6-cup size is perfect for one or two people, but it will require multiple brews if you are making coffee for a small group.
One downside is that while the Stanley feels really durable, the stem and coffee basket feel a bit on the flimsy side which is true of most other percolators discussed in this article. The stem and basket also tend to rattle around a bit more than similar products, but this doesn't seam to affect the final product, because it brews a great cup of coffee.
Check Price On Amazon
GSI Outdoors Glacier Stainless Percolator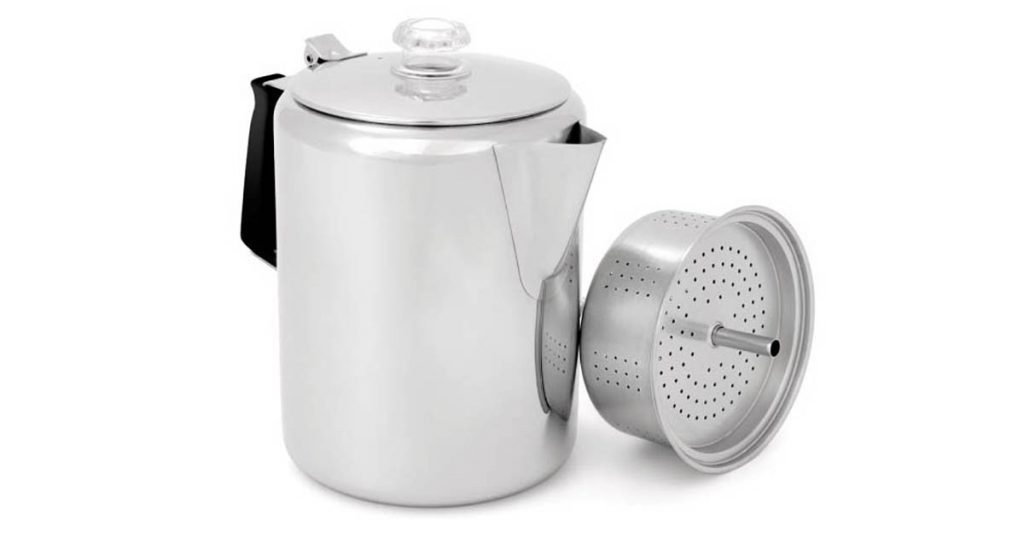 Stainless Steel

3 cup to 36 cup sizes available

Flame-resistant, Permawood® Handle

9.02″ x 6.69″ x 8.82″ (14 cup version)

Dishwasher safe
We saved the best for almost last. The GSI Glacier is well built, easy to use and performs well on both a campfire and stove top. This is the only percolator in this review with a non metal handle, but the  Flame-resistant, Permawood® does does just fine over a campfire. There are a lot of size options for this percolator ranging from a cute 3 cup version all the way to a huge 36-cup version that is the perfect option for a group camp out. For this review we used the 14 cup version, but construction is supposed to be the same for all sizes, so the quality shouldn't vary.
The GSI is a little more expensive than the other percolators listed in this guide, but the extra quality is worth the money if you plan to use it on a regular basis. The stem and basket were definitely better than those found in most other brands, but it still feels a little on the flimsy side. In spite of this drawback the Glacier was far and away the best of the bunch, and it should give its owner years of outdoor coffee drinking.
Farberware 50124 Stainless Steel Yosemite Percolator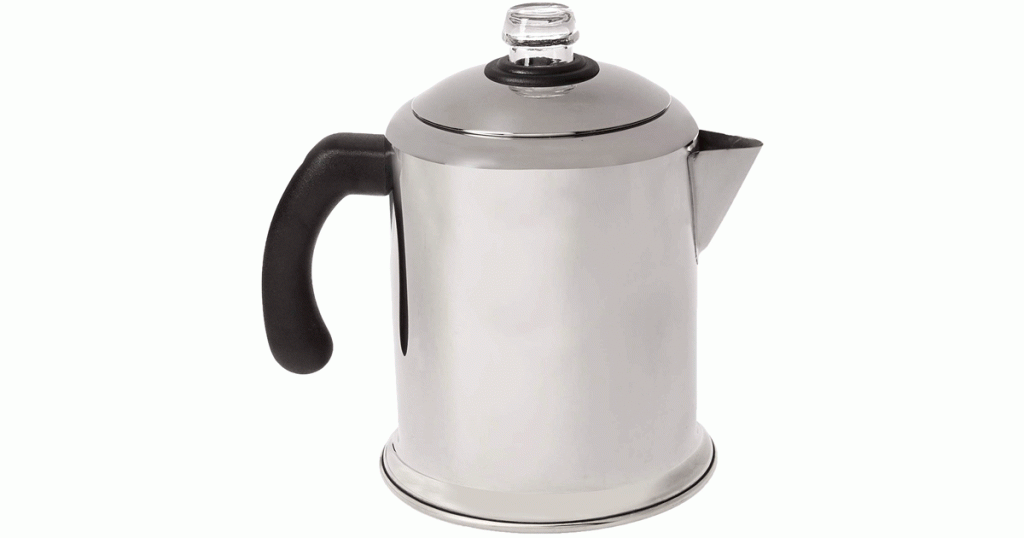 Polished Stainless Steel

8 Cup Capacity (There is also a 12 cup version)

Permanent Filter Basket

9.2″ x 8.7″ x 7″ (8 cup version)

Dishwasher safe

Well build filter basket
Non Reactive Interior
The Yosemite Percolator from Farberware comes in 8 and 12 cup versions, and it is made of polished stainless steel. The non-reactive interior means it doesn't ever get build up of any kind from boiling coffee or other beverages, which is a feature that sets it apart from the classic blue enamel percolators.
The Yosemite model is equally at home on the kitchen stove or campfire. The fact that it is dishwasher safe may be enough to keep it from being relegated to the status of "camping only", but I've never known anyone who actually put a percolator in the dishwasher, so maybe it's a moot point.
The 8 and 12 cup versions of the Yosemite percolator are exactly the same except that the 12-cup version has a glass lid knob and the 8-cup version has a hard plastic lid knob.
While the Farberware Yosemite percolator is easy to use and clean, it really is the durability of this coffee maker that makes it popular with campers. This thing can withstand the rigors of extended outdoor use.