There Aren't a lot of Great Battery Powered Portable Coffee Makers, but Here are Some of the Best We've Found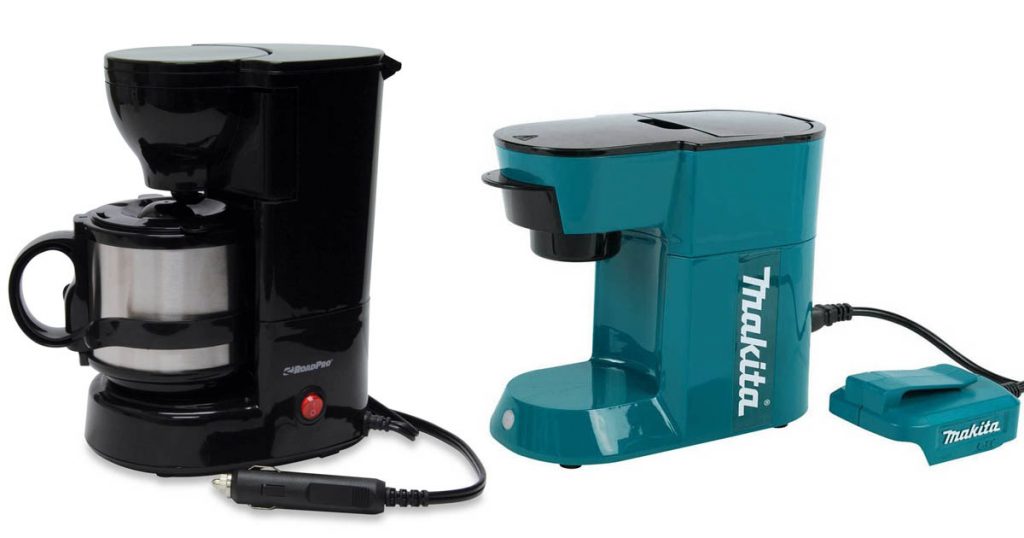 It takes a lot of power to heat water, so most of the battery powered portable coffee makers in production today actually plug into a car with an adapter. There are a few exceptions like the Makita DCM500Z, but the batteries required to power it are cost prohibitive unless you already have those same batteries to run a Makita cordless drill. Due to the fast moving nature of battery technology I expect that we will see more battery powered mobile coffee makers on the market with cheaper batteries in the near future. However if you really need a battery powered coffee maker here are a few of the best models on the market.
Be careful when shopping for a portable battery powered coffee maker online, because there are a lot of products that use that terminology that require hot water to be added. I am only including products in this post can heat the water via battery even if that battery is in your car. I have learned this hard way, and I am hoping this article will keep others from making my mistakes.
Makita DCM500Z 18V LXT Lithium-Ion Coffee Maker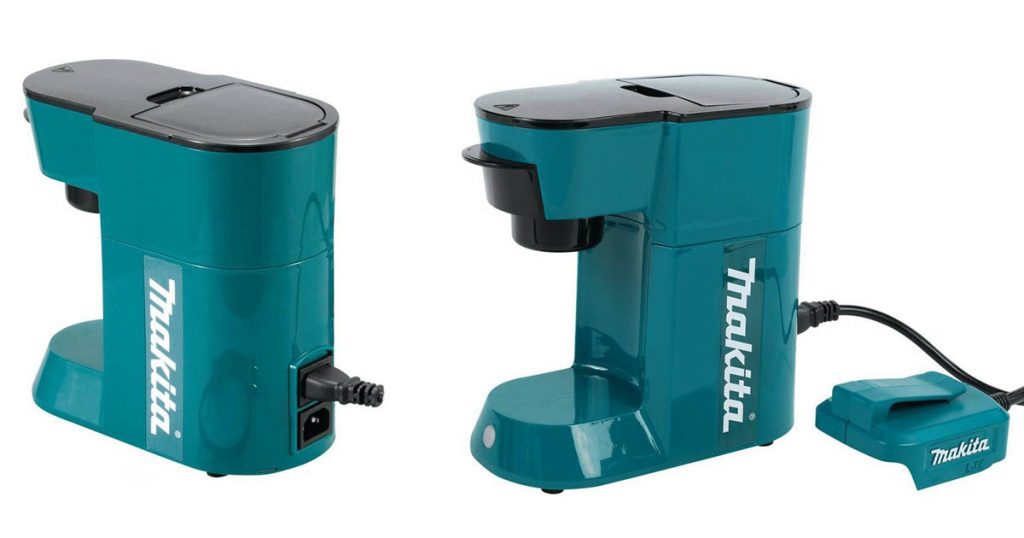 RoadPro 12-Volt | 16oz Capacity | Reusable Filter | 9″x5.5″x10.5″ | Stainless Steel Mug | Read More…
Schumacher 1229 12V | 10cup Capacity | Anti-drip valve | 9.1″ x 11.7″ x 6.6″ in | Boil-dry protection | Read More…
Makita DCM500Z 18V LXT Lithium-Ion | 3.5″ Cup Clearance | Reusable Filter | 6.1″x10.7″x10.4″ | Stainless Steel Mug | Requires Lithium Ion Batteries | Read More…
3.5″ Cup Clearance
Reusable Filter
6.1″x10.7″x10.4″
Stainless Steel Mug
Requires Lithium Ion Batteries
3.6lbs
Now for something completely different and pretty cool. The Makita DCM500z is a great option is you have other Makita tools that use their rechargeable Lithium Ion batteries. It brews coffee quite a bit faster than the coffee makers mentioned above, and it will work with any mug that is shorter than 3.5″. It can brew up to three 5-ounce cups of coffee on one battery, and it can also plug into a regular wall outlet for maximum versatility. The major downside of the Makita is DCM500z is cost. It really only makes sense if you already have the 18V LXT  batteries for other tools, because buying the batteries and the coffee maker will set you back well over $100. If you're already steeped in Makita power tools, though, this might the perfect option for you.
RoadPro 12-Volt Coffee Maker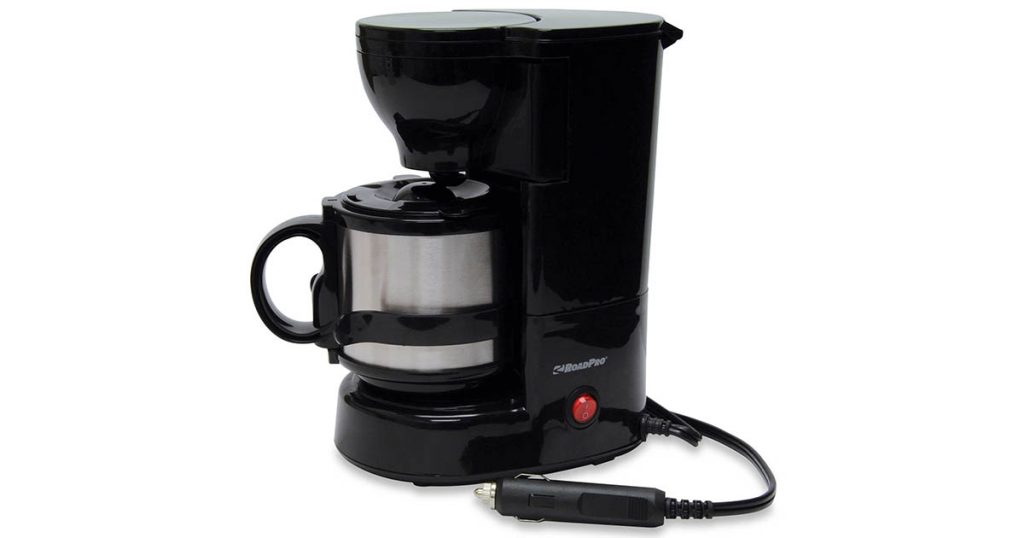 16oz Capacity
Reusable Filter
9″x5.5″x10.5″
Stainless Steel Mug
7ft chord
2.8lbs
The RoadPro 12-volt Coffee Maker has a lot of problems, but it's one of the few options on the market for people who need to brew coffee on the road. If you buy this coffee maker it is really important to make sure your car outlets can handle it. The RoadPro draws 13 amps of power, and many car outlets are only ten amp. This often results in blown fuses. The RoadPro takes 15 minutes to brew a cup of coffee, and the coffee it brews will not be as hot as the coffee you make at home in a regular 110v coffee maker, but it is very affordable and there are not many other options for brewing coffee in a car or truck. However, there are quite a few products that will brew better coffee with less hassle when you are camping.
Check Price On Amazon
Schumacher 1229 12V Coffee Maker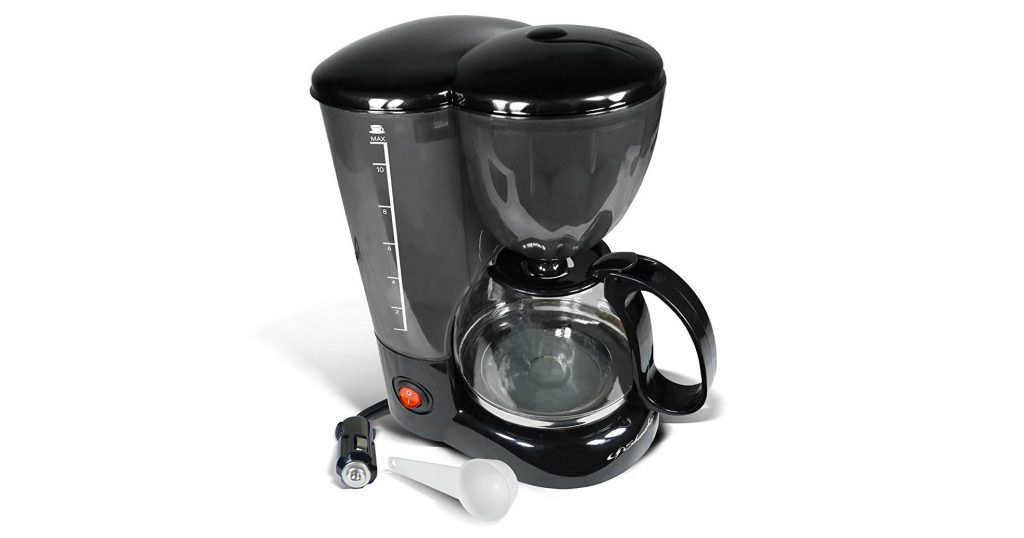 10 cup Capacity
Anti-drip valve

9.1″ x 11.7″ x 6.6″ in

Boil-dry protection

2.9lbs
The Schumaker 1229 is similar to the RoadPro coffee maker mentioned above, and it has a lot of the same problems including the incredibly long brew time. The directions included with the Schumacher say that it brews faster if your car engine is running, and that is definitely true. With the car running it takes 20 to 30 minutes to brew a full pot, and if the car is off it takes closer to 45 minutes. Just make sure you keep an eye on your gas gauge when you're doing it that way. Like to RoadPro, the Schumacher brews coffee that is less hot than an average AC powered coffee maker, but it is one of the few options if you need to brew coffee in your car while camping.
Check Price On Amazon
Due to the fast rate that battery technology is advancing,, there should be some much better portable coffee makers on the market in the next few years. Until then most of us will be better served using a camping percolator or a french press on our outdoor excursions and road trips.