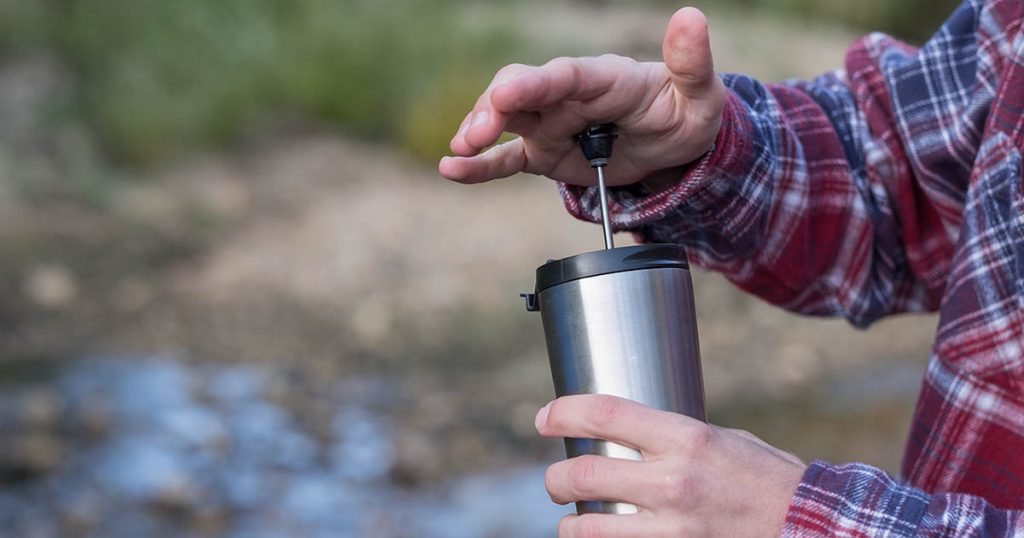 It seems like every time you turn around there is a new French Press design or product announcement. That's great for those of us who like to have a lot of options when planning a camping trip, road trip or hiking trip, but it can make it tedious and time consuming to find the best french press for your needs. Hopefully this post will help.
Primus LiTech Coffee Press Kit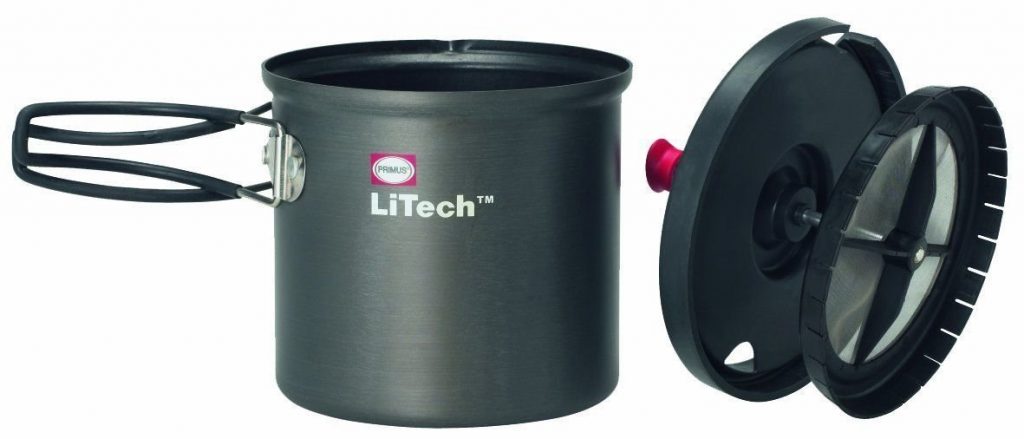 Capacity: 33.8 Ounce
Material: Anodized Aluminum
Dimensions: 5.1″ x 5.1 "x 5.1"
Weight: 11.4oz
Primus LiTech Trek Kettle Included
The Primus LiTech Coffee Press is a great option if you need to pack light for your next camping, backpacking or road trip. The bottom section of the press doubles as a compact pan that can be used to cook food or boil water. This feature makes the Primus LiTech Press one of the best backpacking options on the market.
If you plan to use this press over the large open flame of a campfire you may want to remove the rubber insulation around the folding handle of the LiTech Press, because they will not stand up to prolonged flame exposure, but if you will just be using it over open coals or camp stoves they will last for years.
The anodized aluminum pot is relatively easy to clean, but it is not totally immune to getting beans or oatmeal stuck to the sides if the fire gets too hot or you forget to stir your food while it is heating.
Overall the Primus LiTech kit is a great design if you need to save space, but the press itself does not work quite as smoothly as a few of the other presses mentioned in this post like the Stanley Vacuum Press, so it is not uncommon to find a few grinds in your coffee, but that is a small price to pay for a really versatile camping coffee maker.
Check Price On Amazon
GSI Outdoors – JavaPress 7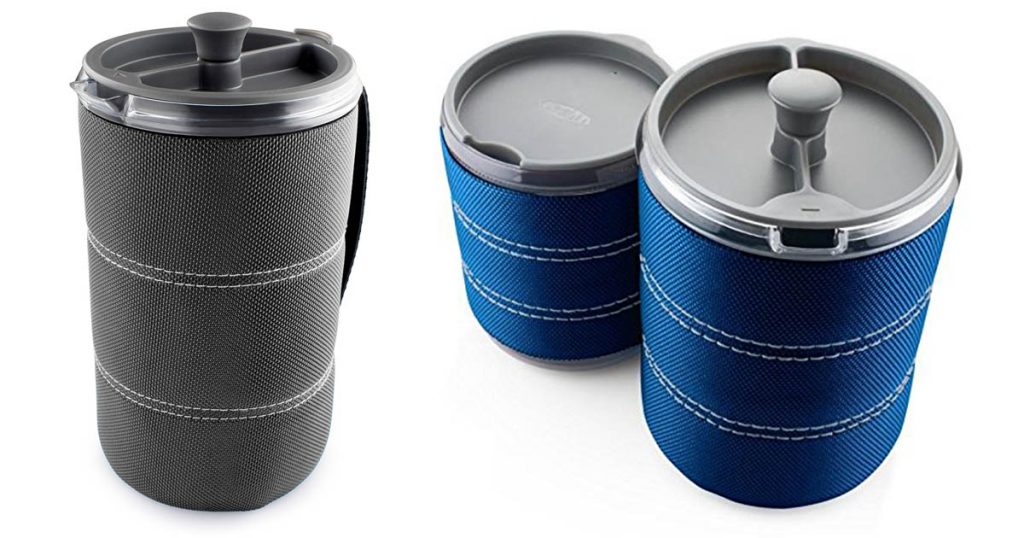 Capacity: 20oz
Material: BPA-Free Infinity Clear Polypropylene
Dimensions: 4.3″ x 4.2 "x 6.1"
Weight: 10.8oz
Set includes a 17oz mug
The GSI Outdoors Javapress 7 is one of the most popular outdoor coffee presses on the market. Thousands of backpackers, fishing enthusiasts, campers and hunters have made this there coffee maker of choice for their outdoor excursions. It is well designed, easy to use, durable and it makes a great cup of coffee. This press is so popular that GSI is now offering 30oz and 50oz versions.
The wide base of this press makes it fairly stable when used on surfaces that are sloped or bumpy, which is a great feature for backpackers and hunters who often find themselves making coffee on a rock, the bumpy ground, or a fallen tree. The press itself keeps coffee warm for quite a while, because  it is surrounded by an insulating sleeve on the sides and the bottom. However the insulation on the mug does not cover the bottom, so if you set it on a cold surface it will get cold sooner than the press itself.
The lid of the press is very tight when it is new. This makes it a little difficult to remove with a finger, but it loosens a little after several uses and becomes easier to remove. Because the insulation sleeves on the press and the mug  are glued on it is best to hand wash the Javapress 7 rather than putting it in the dishwasher.
The Javapress 7 is so well designed that many of the outdoor enthusiasts who use it for backpacking or camping have begun using it at home too. The press itself works smoothly and rarely ever allows coffee grounds into the top side of the mesh which is rare for outdoor coffee presses.
Check Price On Amazon
Stanley Classic Vacuum French Press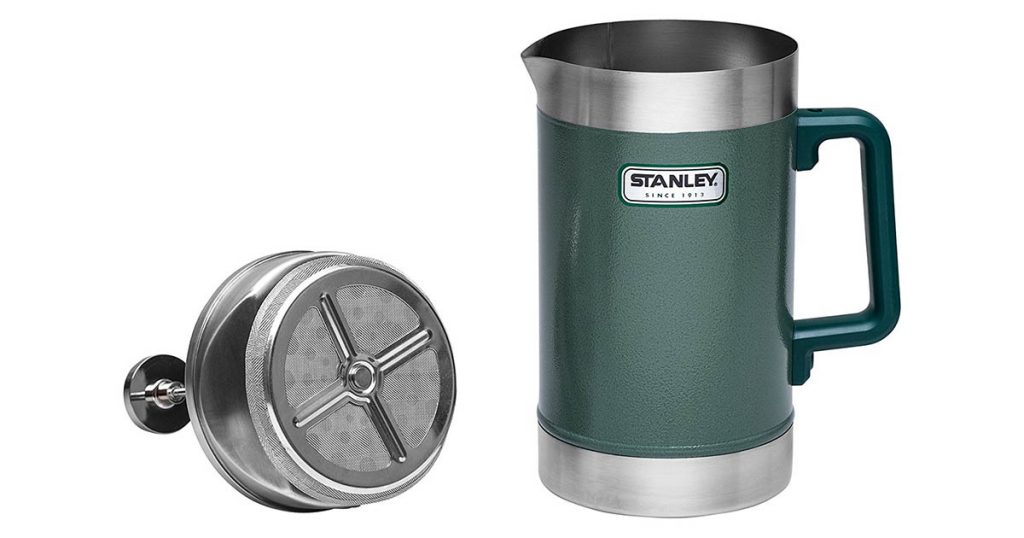 Capacity: 48oz
Material: 18/8  Stainless Steel
Dimensions: 7.1″ x 4.9″x 9.5″
Weight: 2.7lbs
Keeps coffee hot for over 4 hours
The Stanley Classic French Press is certainly the most durable press on this list, but at 2.7lbs it is also the heaviest, so it is probably not the best option for backpacking. However, if you are driving to a campsite the Stanley Coffee Press is a great option, because it makes a lot of coffee and keeps it hot for a long time. It should also last you a lifetime, because it is built like a tank.
The Stanley Classic Press does tend to let a few more grinds get past the screen than the GSI  Press mentioned above, but that's a hard design flaw to get around with a press mesh has to big this big, and ultimately it does a better job than most indoor or outdoor presses on the market. If you are looking for a large, well designed , stainless steel press that will last a lifetime, the Stanley Classic is tough to beat.
Check Price On Amazon
The Stanley Adventure 32 Ounce Coffee Press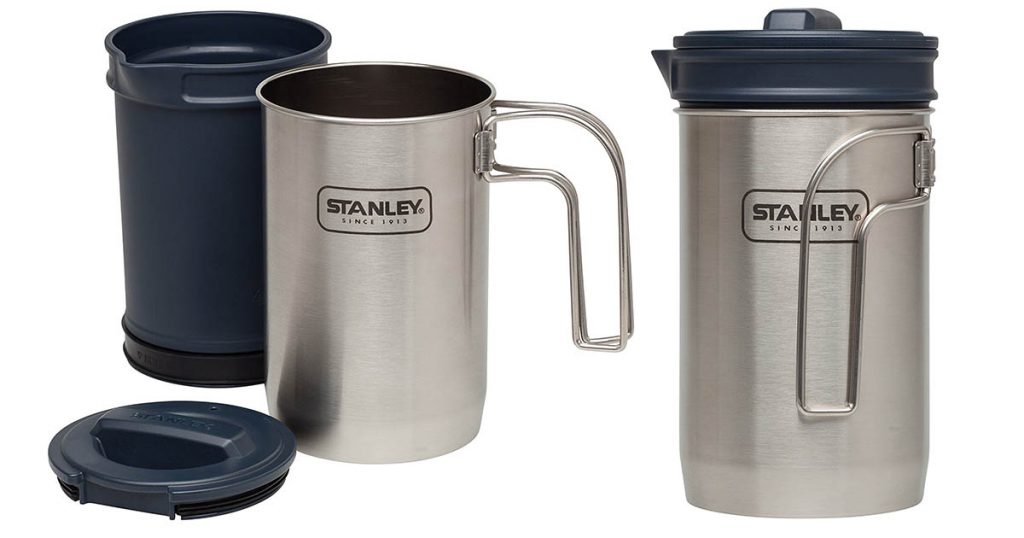 Capacity: 32oz
Material: Stainless Steel Exterior & melt resistant nylon interior
Dimensions: 4.3″ x 4.3″x 7.6″
Weight: .93lbs
Nesting Design Saves Space
The Stanley Adventure Coffee Press was designed with the camper in mind. Like the Primus LiTech Press mentioned above, the Stanley Adventure Press does not require a secondary water boiling pot or kettle. It consists of a stainless steel shell that can be used to boil water and a melt-resistant nylon interior that contains the press itself. Once the water is heated in the stainless steel exterior, the interior section containing the press is placed inside.
Stanley is known for making durable gear, and this press is no exception, but it is considerably lighter than the Stanley vacuum press, and it does not require a secondary pot or kettle to heat water, so this is a great choice if you are looking for a really durable press that is light enough for backpacking trips.
Check Price On Amazon
Cafflano Kompact Portable Coffee Press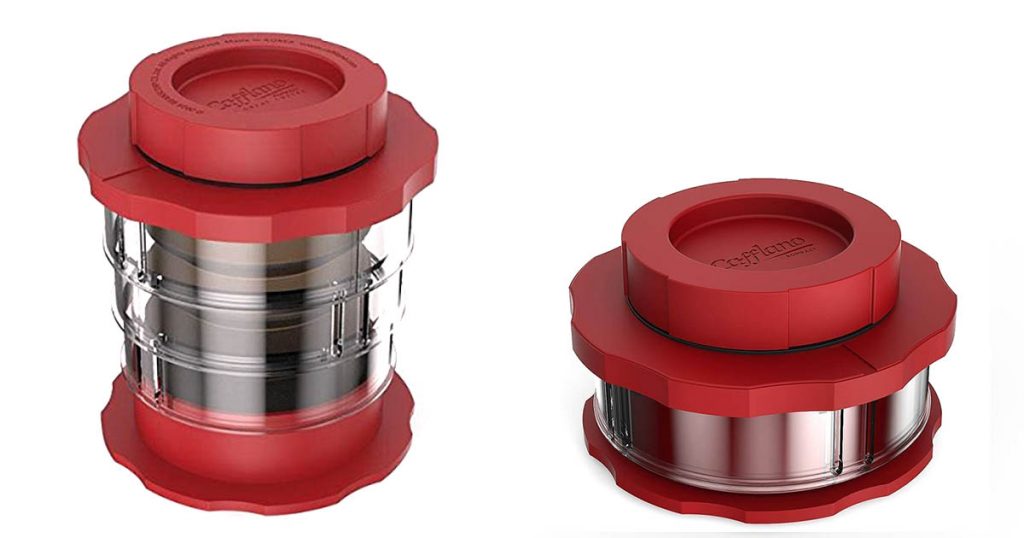 Capacity: 1 cup
Material: Black silicone bellows and a stainless steel press.
Dimensions: 4.2″ x 4.2″x 4.8″
Weight: 8.5oz
Collapsible for ultra compact carry
The Cafflano Kompact is by far the smallest press on this list, so if you are looking for something that takes up very little space and weighs almost nothing, this may be the press for you. It works a lot like an Aeropress in that you squeeze the coffee directly into your cup (Cafflano actually markets this as an alternative), but since this still brews with a french press style, it doesn't need any paper filters. It is well designed and well made, so you can expect to use it for years. You will still need a pot or kettle to heat water in, which negates some of the space saving size of the Cafflano, but most campers and backpackers have at least one small pot or pan in their pack anyway.
If you prefer espresso to coffee when camping or hiking check out our post on Portable Espresso Makers.