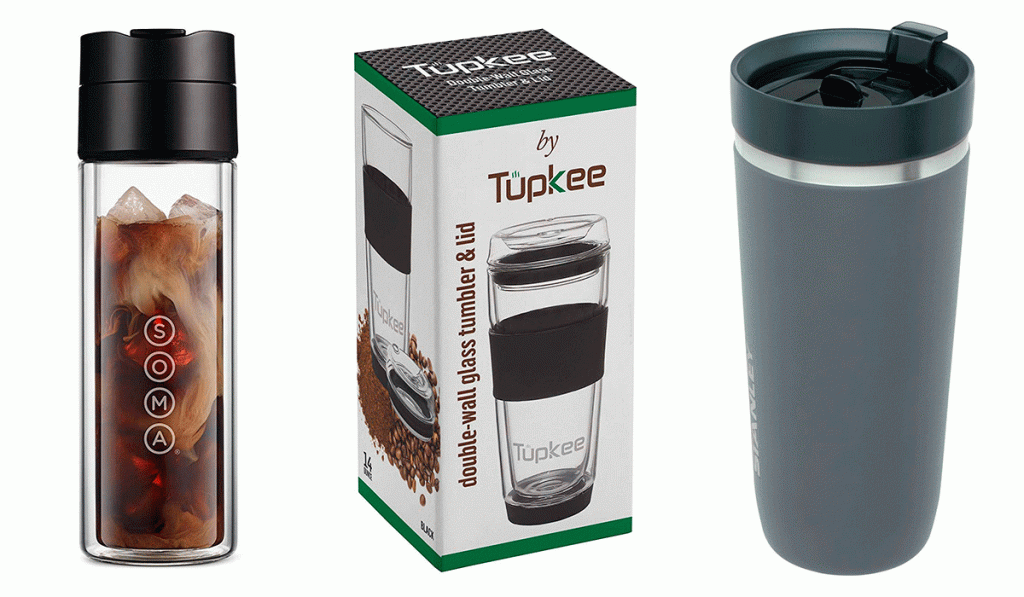 Here Are Some Great Ceramic and Glass Travel Mugs For Your Next Camping Or Road Trip
There is a fundamental problem in the choices of travel mugs available right now: All the good ones for camping are stainless steel.
Most of us go out there expecting to rough it in a few different ways, including putting up with a bit of a metallic taste to our coffee. But those campers who don't want to compromise are faced with much larger problems:
Ceramic and glass travel mugs are more likely to break,
They don't keep liquids hot for as long,
Since they don't insulate as well, they can get way too hot to hold,
Almost all ceramic or glass mugs have terrible lids.
There are a scant few mugs made from anything besides stainless steel that don't spill and have anything approaching practical ergonomics for the car or campsite, but there are still some if you look hard enough. Which we did.
Here's a list of qualities we typically look for in a travel mug:
A hard lid with a rubber or suction lining (anything with an all-silicone lid is a hard pass)
Double walled (For insulation and durability)
Cupholder-sized (meaning small enough to fit, but big enough not to rattle around a lot)
Any handle must ride high enough to be above a standard cup holder
It should be noted that even though everything on this list has something better than a leaky silicone lid, the lids are still often the weak link for various reasons. The search for the perfect lid on a ceramic travel mug continues, but for now here's the best of what we can find. So if you are looking for stainless steel alternatives for you french press or percolator coffee while camping or traveling this list is an excellent place to start.
Ceramic Travel Mugs
In the non-metal world of travel mugs, ceramic seems to have the most options. Possibly because it's easier and cheaper to work with than glass, so it's easier to invest in different ideas. Whatever the reason, you'll see a lot of innovation with ceramic travel containers.
Stanley GO Tumbler Series w/ Ceramivac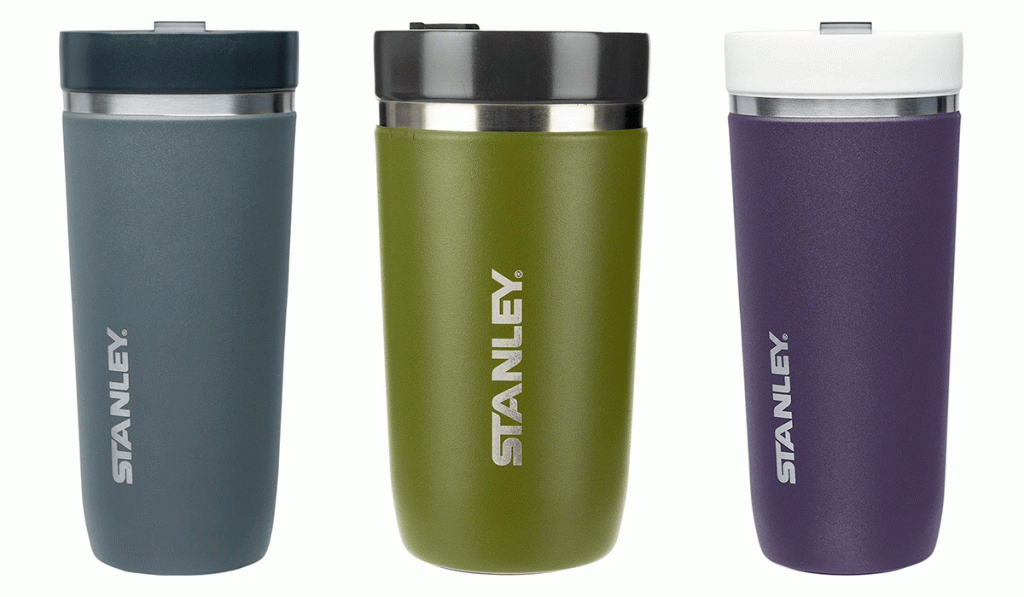 16 – 24 oz
Vacuum sealed double-walled ceramic interior
Stainless steel exterior
Plastic slider lid
This comes so close to being the holy grail travel mug we've been waiting for. Stainless steel on the outside, ceramic lining on the inside. Why did it take this long for someone to start making this? Stanley makes this in all kinds of shapes and sizes that fit into any cup holder and ranging from 16 to 24 ounces, and a decent selection of colors.
The problem is the lid is a little tricky to work with. It isn't leaky around the seal, thankfully, but the slide-open mouth is pretty large, which makes it hard to drink without spilling. If you can manage that aspect, though (or just learn to live with it), the Stanley Go series might be the best option to get both a durable drinking vessel and coffee that keeps its flavor.
Contigo Twistseal Glaze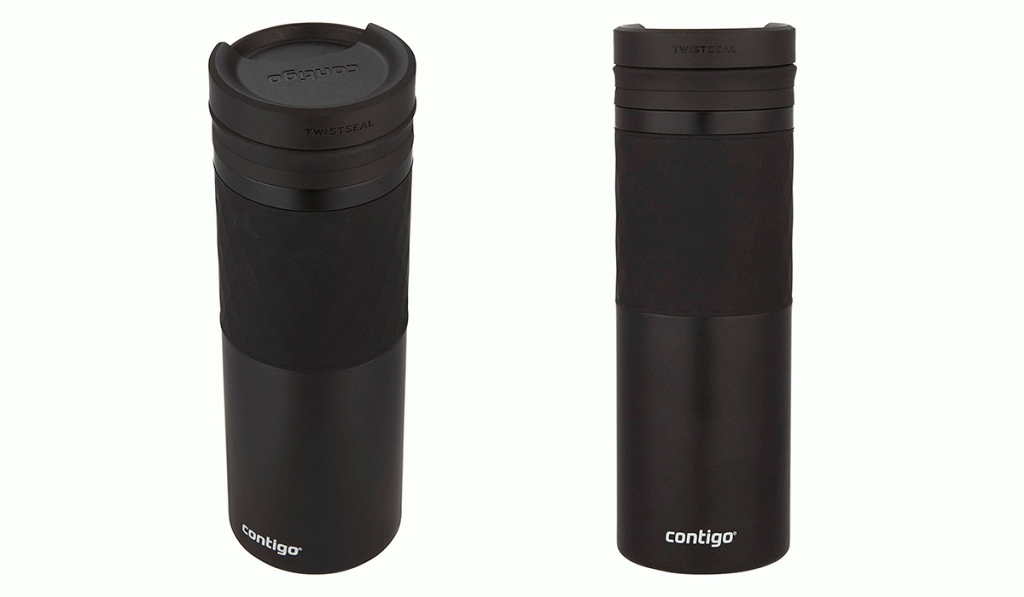 16 oz
Vacuum sealed plastic lid
Stainless steel exterior w/ ceramic lining
Contigo continues the innovation with the Twistseal. Same stainless steel exterior with a ceramic lining, but they've gotten a little creative with the lid. Some would say too creative. Contigo says it's a leak proof design with "thermalock" vacuum insulation. And it does seem to be leak proof. I have heard a lot of complaints about the lid breaking though. However well it functions, it seems the actual structure is fairly weak. Actually drinking from it involves holding down a button when you drink to open it up, and the lid is pretty stingy about how much liquid it lets through, so they definitely designed this for sipping.
The rest of it is great though. It keeps your drink hot for several hours (up to 7, according to Contigo), which is several hours better than most ceramic mugs. It has a nice silicone grip and just about the perfect size for a car's cup holder.
Ello Jane 18 oz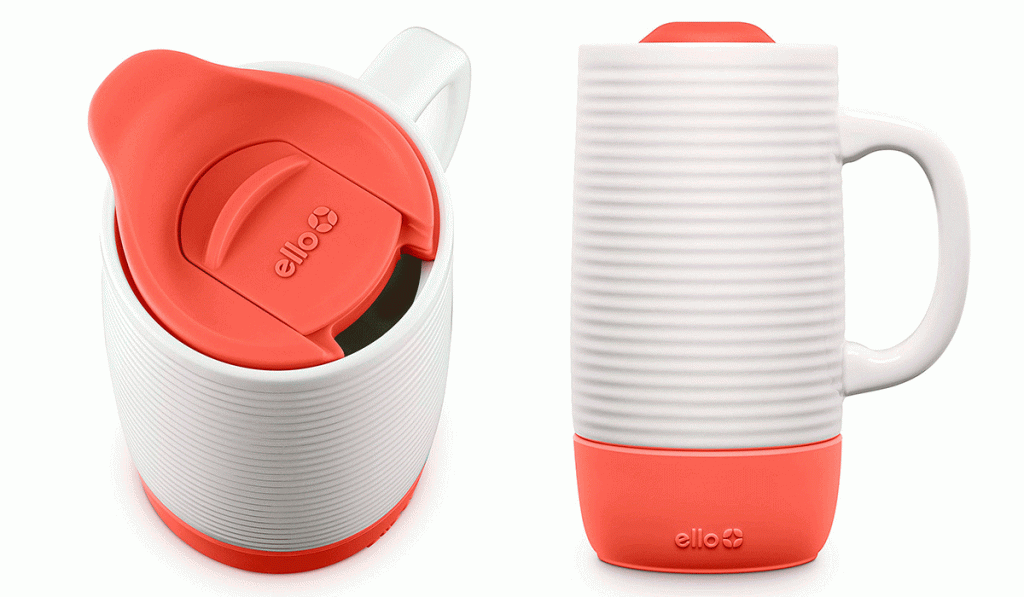 18 oz
Cup holder-friendly handle
Silicone base
Plastic slider lid
This is one of the only decent options with a handle we've found (so far), and of course it would look like something a mom would take on a picnic, but maybe that's a plus. Ello makes a lot of decent stuff especially in the non-stainless steel area, including their Aspen mug, which also has a handle but frankly looks a little too fragile for camping. The Jane is a little bigger and has a nice ridged design that should be a little easier to hold onto and be a sturdier structure.
Again, there is a slight problem with the lid here. Since they didn't put a pine hole anywhere else on the lid, it creates a vacuum when you try to drink too much from it at one time. Anyone who has experienced this problem before knows what kind of havoc this can bring to both your shirts and your mouth. You either have to take small sips, and take the lid off when you're drinking something hot from the Jane.
Ello Ogden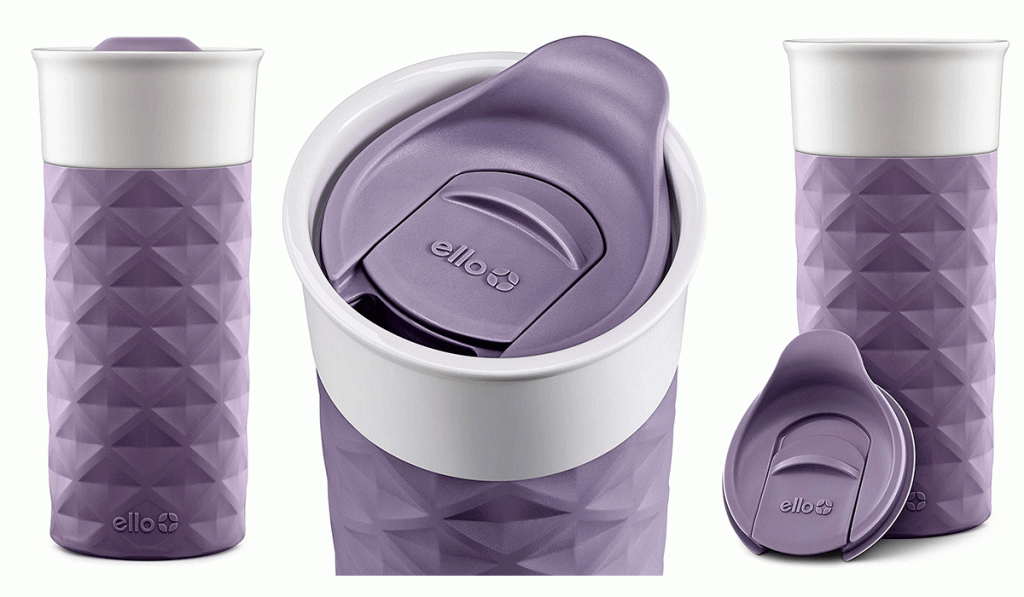 16 oz
Silicon boot
Splash-proof slider lid
Unfortunately, this has the same Ello lid problem. No secondary hole, so sip carefully with this one, or risk getting hit with a burst of coffee. Past that though, this is a more durable option and a much more manageable shape. The silicone outer layer is a nice way to add good grip and better insulation. It should also be a little durable, since the silicone will adds a bit of cushion. It's still not something you can just drop on the ground, but it has a higher chance of survival than some of the naked options we have on here.
Glass Travel Mugs
The thought of taking a glass mug into the woods feels counter intuitive to me, but there are enough clever people out there making glass travels tumblers that this is actually a viable option now.
Soma Double Brew Bottle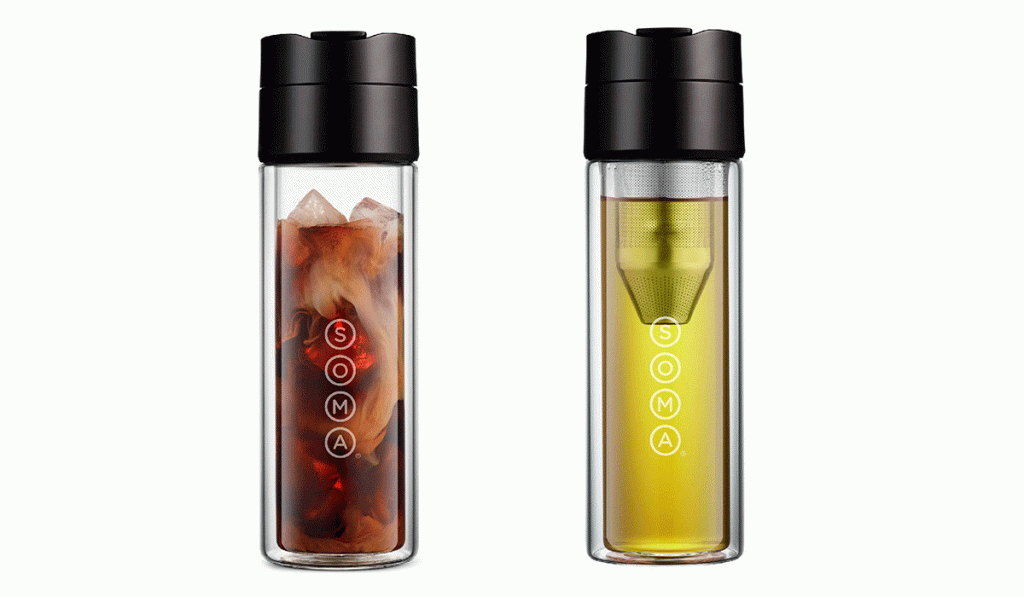 12 oz
Leak-proof flip-top lid
Stainless steel filter
This bottle is not winning any durability awards; I've heard a few stories where this broke from tipping over. But the design is still good. It was made to make tea or pour-over coffee on the go, and the meta filter that comes with it seems to work pretty well for that. As a camping tool, this thing opens up a lot of options for the morning coffee routine. It potentially reduces the number of contraptions involved to just boiling water and pouring it into this bottle. And of all the lids we've seen on travel bottles and mugs, this is one of the best in terms of leaking and how easy it is to drink from it without burning yourself.
It's not something you should take on a hike. Not only is the glass fairly fragile despite being double-walled, but it's not the easiest thing to grip. For some reason Soma didn't see fit to put a silicone sleeve on these like they do with all their water bottles. But it's a good option for sitting around the fire in the morning and even making a cold brew later in the day.
Tupkee Double Wall Glass Container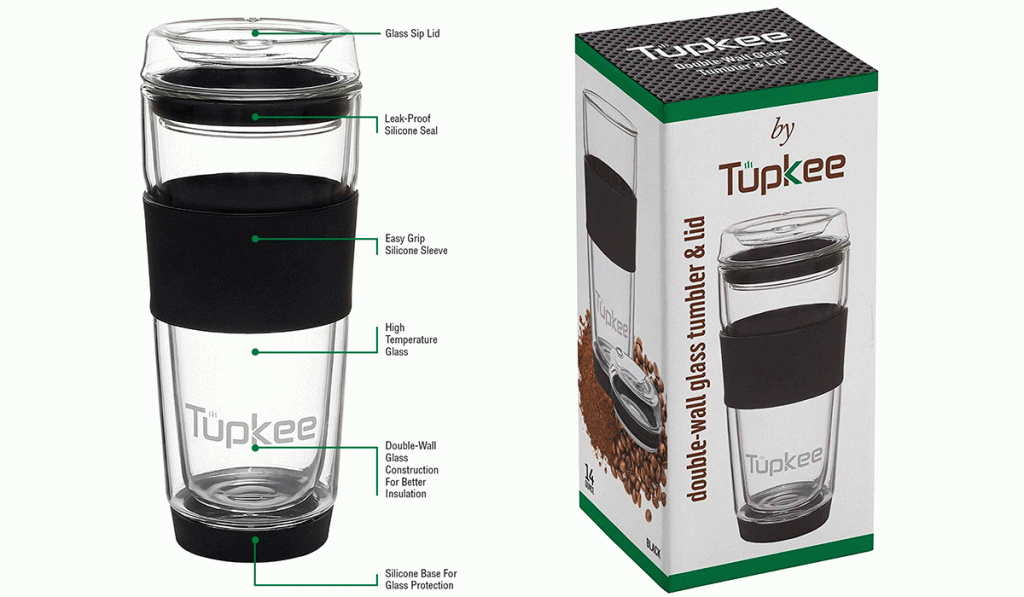 16 oz
Glass sip lid w/ silicone seal
Double walled borosilicate glass
Silicone sleeve
This is one of the few options on here that doesn't have some kind of plastic slide lid. It's a glass sip lid with a silicone seal, and fortunately Tupkee has done a good job of making it pretty leak proof. Not in the sense that you could turn it upside down (since it's an open mouth design), but the sides of the lid hold up great. It's fairly good at insulating heat for glass, and easier to hold than most glass options. It's also comparatively durable, but still not something you want to tip over. The lid in particular is notoriously fragile. They've made good use of silicone as an insulating sleeve, a grippy bas, and a seal.
The big pull of this design, though, is that it's one of the few without any metal or plastic. Your drink will only ever make contact with glass the whole way through.
Kikkerland Glass Tumbler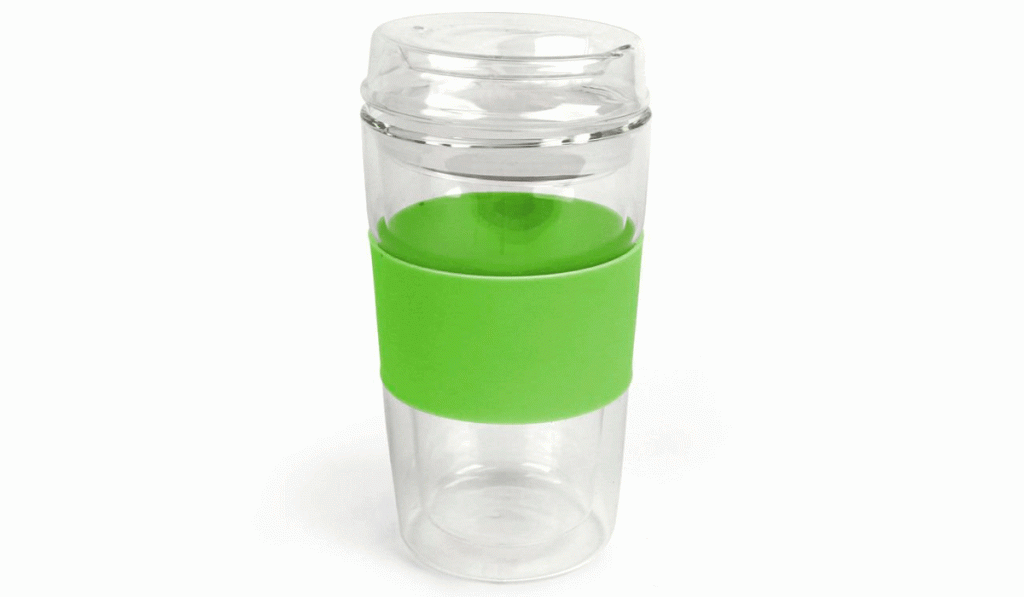 10 oz
Glass sip lid w/ silicone seal
Double walled glass
Silicone sleeve
You could call this the off-brand version of the Tupkee container. Same basic design, but about half the price, and there is a reason for that. The glass is pretty fragile even though it's double walled. It's also fairly small, only holding 10 ounces. But that should put it right around in Aeropress territory, if you're that kind of person.
It's also pretty consistently in the $10 range, so you are very much getting what you pay for. If you're careful, the Kikkerland glass tumbler is good enough. It also contains no plastic or metal. No one likes to hear "be careful with this" when they're camping of course. This is certainly not the best option on this list. But it is one of the cheapest, so maybe that's worth the compromise.