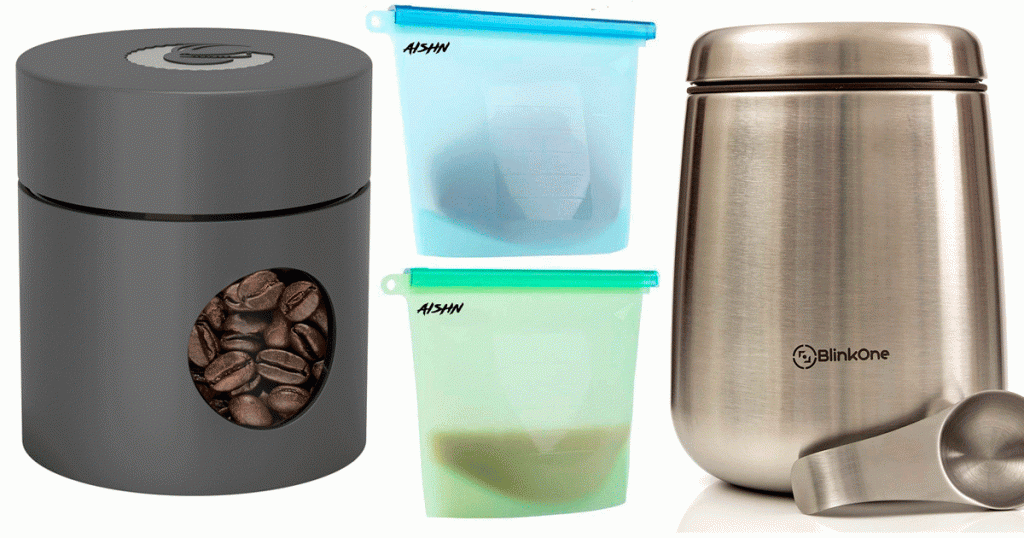 There are some great options for storing coffee on camping and backpacking trips.
Good coffee storage is the first step to a good cup. That can turn into a tricky step when you plan on making that coffee around a campfire in the middle of nowhere while camping or backpacking. Fortunately you're not the first person to have this problem. There are dozens of neat things people have designed that make portable coffee storage a lot easier and more effective, but they all pretty much come in two different styles: bags and canisters.
Here we'll run through the pros and cons of the two and talk about some of the best products you can get right now in each category.
Problems to Consider when Packing Coffee
Light: Meaning sunlight, not weight. Usually it's bad practice to keep coffee in something translucent, but if you're camping the coffee is probably sitting in a bag or ice chest, so this doesn't matter so much. Just don't leave the container out for too long.
Oxygenation: This is the biggest thing. The coffee needs to be in something that can be sealed or else it allows free flow of oxygen and makes the beans go stale in a few days. Look for the word "airtight" on anything you want to store the coffee on. Although you'll see in a bit that "CO2 release" is really good to have too.
Temperature: At home, it's generally not a good idea to keep your beans in the freezer, and you certainly wouldn't let them sit outside in the sun during the summer. When you're camping, temperature really only becomes a manageable issue if your venturing into snow-covered areas or desert. In those cases, the best you can do is keep your airtight coffee container buried deep in the biggest bag or ice chest you have to keep the temperature even.
Weight and Space: Most of the weight of coffee is likely to come from whatever you store it in. For backpackers this is a big issue; that's why most of them just take single-use instant coffee packets. It's less of an issue for anyone taking an ice chest, but even then clutter can become an issue pretty quickly if you're using an 18 oz stainless steel canister for your coffee.
Sealing Coffee Bags
Pros: Good on weight and packing space.
Cons: Not as reliable for sealing out oxygen.
If you're backpacking or just generally tight on space, you'll definitely want a bag to store your coffee (assuming you aren't just using instant). In terms of weight and clutter, coffee bags offer the best solution because they can be squeezed down to take up roughly the same amount of space as the amount of coffee you're packing. However, they aren't the best at reducing oxygenation. Most bags with a degassing valve still let at least a little air back in, so this option definitely favors weight over coffee quailty.
High Barrier Coffee Bags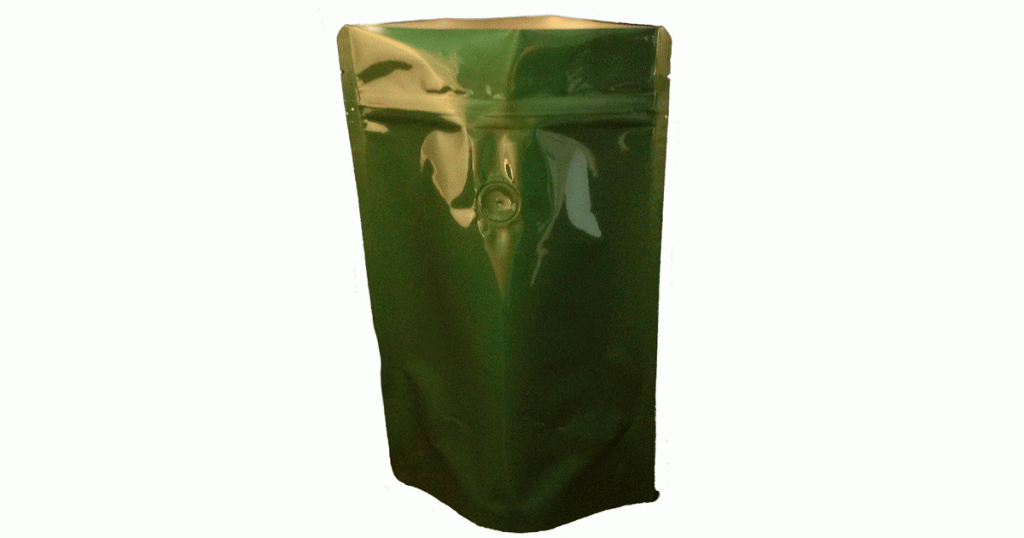 Premium coffee bags – layered PET / AL / LLDPE
5.4 mil thick with heavy duty resealable ziptop
6 inches wide x 9 inch tall with 3.5 inch gusset
Bags like this are primarily used for storing home-roasted coffee, but they can transition pretty easily to camping since the High Barrier bags have a zip lock closure. The degassing valve is a really great feature for long excursions, especially if you're heading into high altitudes. These bags will keep the pressure on the beans or grounds fairly consistent. Some people have complained that the valves don't completely keep air out. That's probably not great for long term storage, for our purposes it's just fine. Even on a week-long camping trip you won't notice much difference in quality so long as these keep most of the air out.
On a side note, these were also made to be heat sealed. That's easy enough to do at home if you have a flat iron, but trickier if you want to do it in the wilderness. I'm sure there's a way to heat seal these in the bush, but I don't know what it is, and I would be hesitant to suggest it on the internet anyway.
AISHN Reusable Silicone Food Storage Bags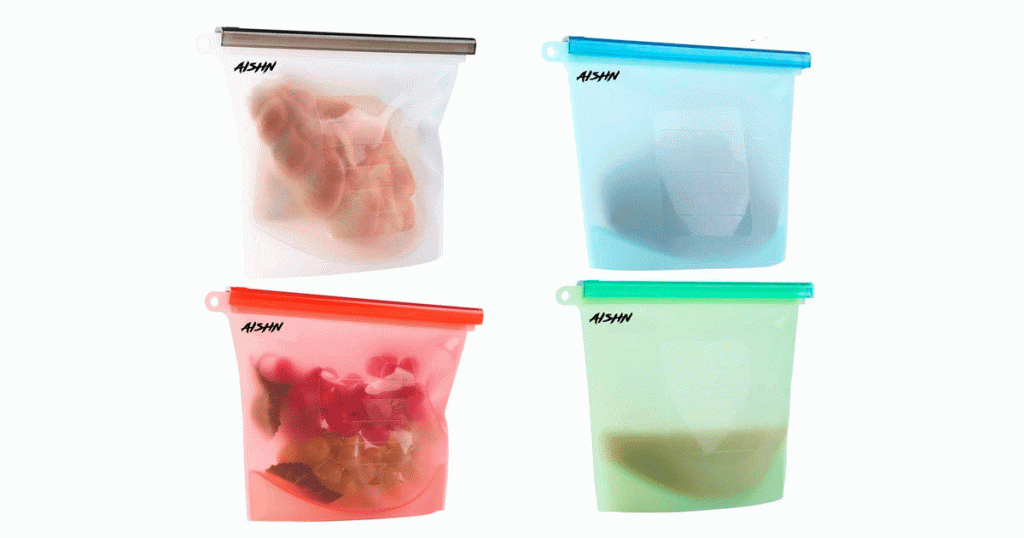 30 oz Reusable food-grade silicone bags
Air-tight and leak-proof zip lock closure
Withstands extreme temperatures from -40F to 446F
These are great because they can have a lot of uses for camping outside of coffee storage since they're made to hold liquids and can stand both very cold and very hot temperatures. You could theoretically use these to cook something. Where coffee is concerned, though, they provide a great airtight environment. A lot of people report having trouble opening and closing the seal, which is to be expected since the closure is essentially a zipper in silicone. But however hard it is to close, it's at least one indication of how tightly sealed it gets.
These will be slightly heavier and larger all around than your average coffee storage bag. You could almost store all your coffee in whole with the bag you bought it in and throw in a scoop for good measure. So while it is the bulkiest bag option on here, it's also the largest, and most versatile.
Ziploc Snack Bag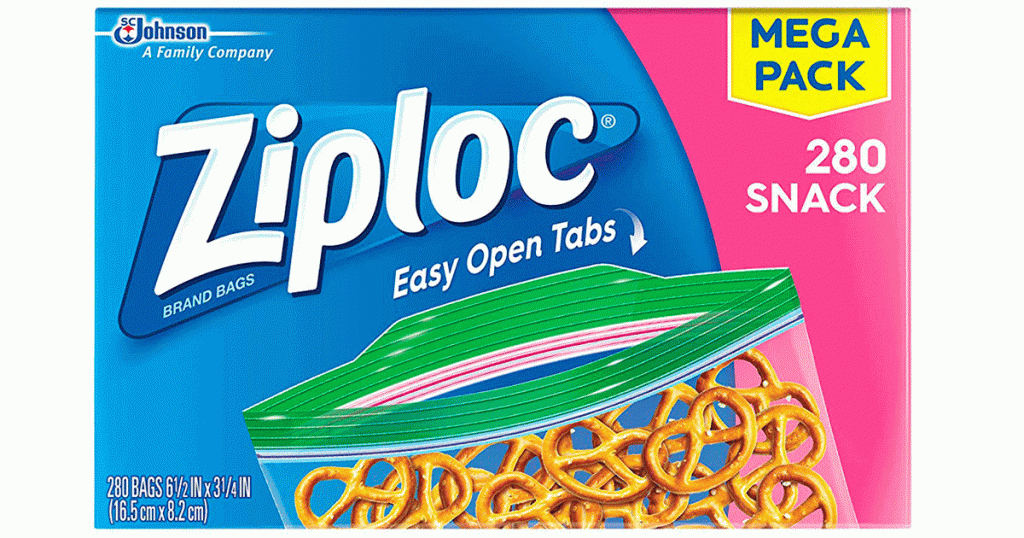 BPA-free plastic
Finger-push seal with easy open tab
Snack-sized
It's ugly, it's clear plastic, people will think you're kind of ghetto, but it works. Get all the fancy valve bags you want. You will not find a cheaper solution with a decent sealing ability than Ziploc bags. You can get hundreds of them for less than what your coffee costs, they're almost weightless, and all you have to do is make sure you squeeze as much air out as possible before you finish sealing it up. There is a trick to be learned in getting these bags as airless as possible, but once you get it down, the sky (or the backpack, really) is the limit in terms of storing coffee for camping and backpacking.
Just remember that these need to stay deep in your pack or ice chest so that light isn't getting at the bag when you aren't using it.
Airtight Canisters
Pros: Tougher and better at sealing.
Cons: Much bulkier and heavier.
If you've got a bit of space for camping coffee, there are a few different canisters worth considering. While they present a lot of problems with space and generally aren't as good for pushing air out, they are better for reducing airflow overall and in some cases the containers themselves can become multipurpose.
CoffeeVac ½ lb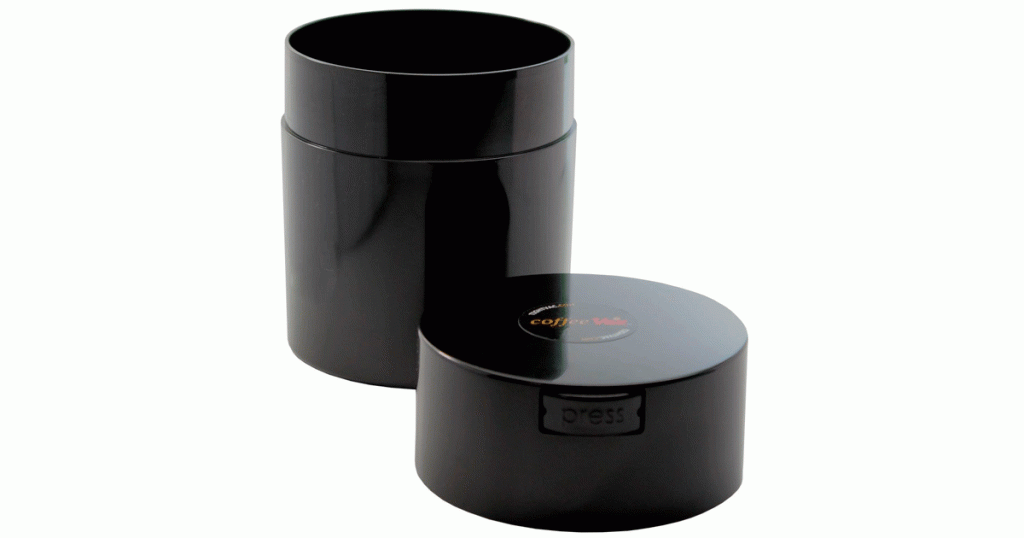 They make these in several sizes ranging from 5g for herbs and spices to 1 lb for at-home use. The container itself is a little clunky, so it's definitely not a hiking-sized container. But for a campground setting where you're already hauling bulky stuff, this is one of the best low-cost ways to keep your coffee fresh.
You'll see a lot of stuff about this container being "vacuum sealed" which is kind of a debatable term here. Really it's more like an airtight seal. It will be better and a lot easier than using a plastic bag, but probably not quite the "ultimate container" all the product descriptions claim it is. That doesn't mean it's bad. For the $15 range it's great. You could think of it as very high quality, specialized tupperware. Just be aware of what you're getting.
BlinkOne Coffee Canister 18oz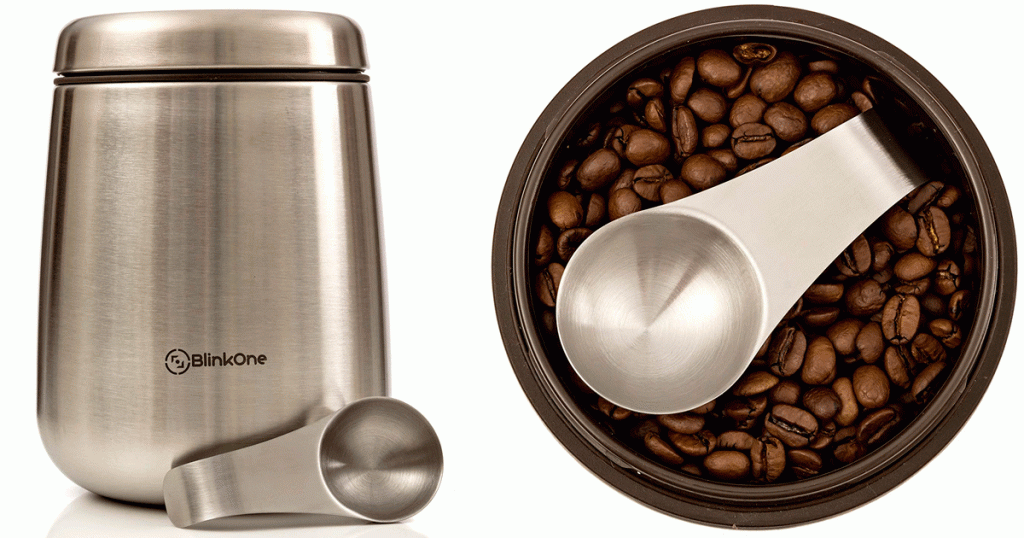 CO2 release button
8 oz. / 250 g / 0.8 liters
Food-grade plastic
This is a slightly larger, and much sleeker, alternative to the Coffeevac from a Canadian company called BinkOne. It's heavier, so, again, not the backpacking option, but it's durable, and the screw-top lid removes pretty much any danger of spilling. The tablespoon it comes with also makes measuring on the go a lot easier, and the magnet they placed in the lid to keep the scoop in place could have a lot of potential for packing other stuff when you're planning on going out.
Coffee Gator Coffee Canister – Medium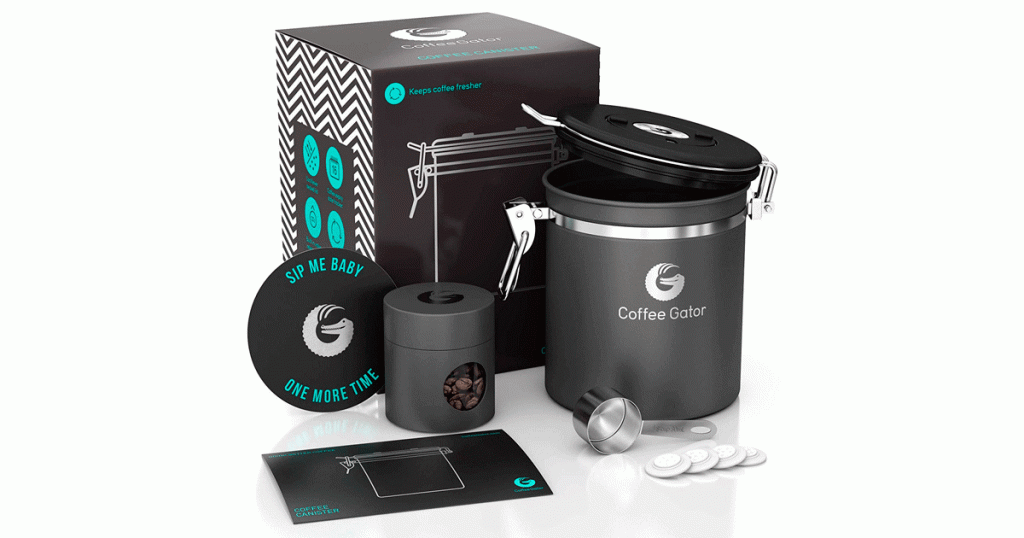 Surgical-grade stainless steel
CO2 release valve
Quick-release bail clasp
Can hold roughly 1 lb of coffee
Coffee Gator technically made this for home storage, but they also made it out of stainless steel with a slot on the side for storing a scoop, so there's a lot to play with here.
Even though this is fairly bulky, it offers a pretty luxurious coffee set up for anyone planning to set up in one camping spot for a while. The medium canister should be big enough to hold a pound of most whole coffee bean roasts, and shouldn't have any problem holding plenty of ground coffee, and thanks to the CO2 valve release this is a good way to keep even ground coffee fresh for an extended trip.
Hokeki Coffee Canister – 16oz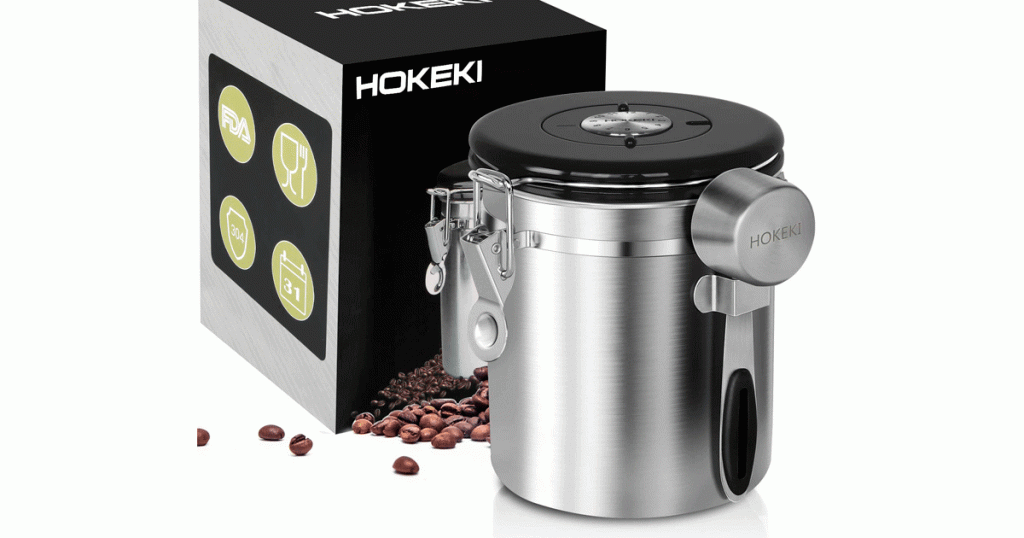 BPA-free plastic lid with metal clasp seal
One-way CO2 valve
Stainless steel body
Comes with 1.8 cup scoop
This is a cheaper alternative to the Coffee Gator stuff. Arguably Hokeki doesn't have quite the same brand recognition in the coffee world, but the people who use them seem to like them. They're decent quality with many of the same features including the CO2 release and metal clasp seal. Whether or not they're the same build quality is up for debate, but Hokeki certainly isn't bad quality. They also offer their canisters in different colors, so if you have a thing for black or gold, this would be the way to go.
Coffee Gator Mini Travel Canister – 4 oz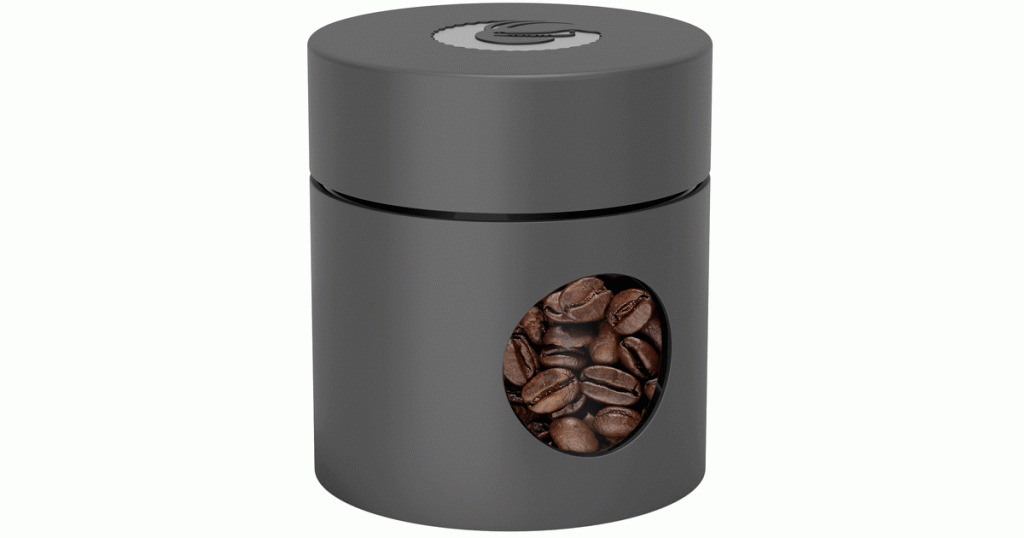 Glass reinforced with powder-coated stainless steel
Holds roughly 1.2 oz. of ground coffee or 1.4 oz. whole beans
Comes in pink and silver
You really need to plan ahead with this thing, but if you use these things right it makes coffee brewing in the wild a lot nicer. This is a very small jar. Depending on how strong you like your coffee you can expect to get one or two cups out of it. If you're pre-grinding your coffee, the Mini Travel Canister is a great companion for an Aeropress, because the it's a lot easier to pour the grinds down the mouth without spilling (anyone who's tried to use an Aereopress without a scoop can appreciate that feature).
If you're packing coffee for a group, you should definitely go for something bigger, but when you're on your own or just with one friend, this is a good way to keep things neat.